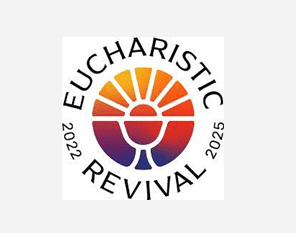 At a time when many are looking for the peace of prayer and new spiritual energy, the Church invites us to Mass, to invite Jesus deeply in our hearts. The Eucharist is the Source and Summit of our Catholic Faith, because Jesus is the Foundation – our lives are built on the foundation of His merciful love and True Presence in the Eucharist.
Join us at our weekend Masses – Vigil on Saturday at 4pm; Sunday Masses at 8:30 & 10:30am; weekdays at 8:30am (M, Tu, W, F).
First Fridays are the occasion of extended prayer from 9am until Noon in adoration of the Exposition of the Blessed Sacrament. Come and pour your heart out to Our Lord, and soak in his peace and joy.
Stay tuned for diocesan events this season as we celebrate the national initiative of Eucharistic Revival!